molpigs, The Molecular Programming Interest Group, is an international group of researchers interested in topics such as molecular programming, DNA computing, and other aspects of biomolecular nanotechnology. We host regular seminars, poster sessions, journal clubs, send out newsletters, and host a forum for discussion and fostering collaboration.
Hello and welcome back to the molpigs newsletter! All the past podcasts and tutorial can be found here. Enjoy! Feel free to hang out at the molpigs Forum!
New events coming!
Interested in helping out, sharing something interesting, or have an idea for something we could do?
---
We chatted with Dr. Yuan-Jyue Chen about DNA storage, random access, retrieving information based on similar features, and his experience working in University of Washington and Microsoft. Check it out here!
Please note that the views expressed by Yuan in this podcast do not necessarily represent the views of Microsoft.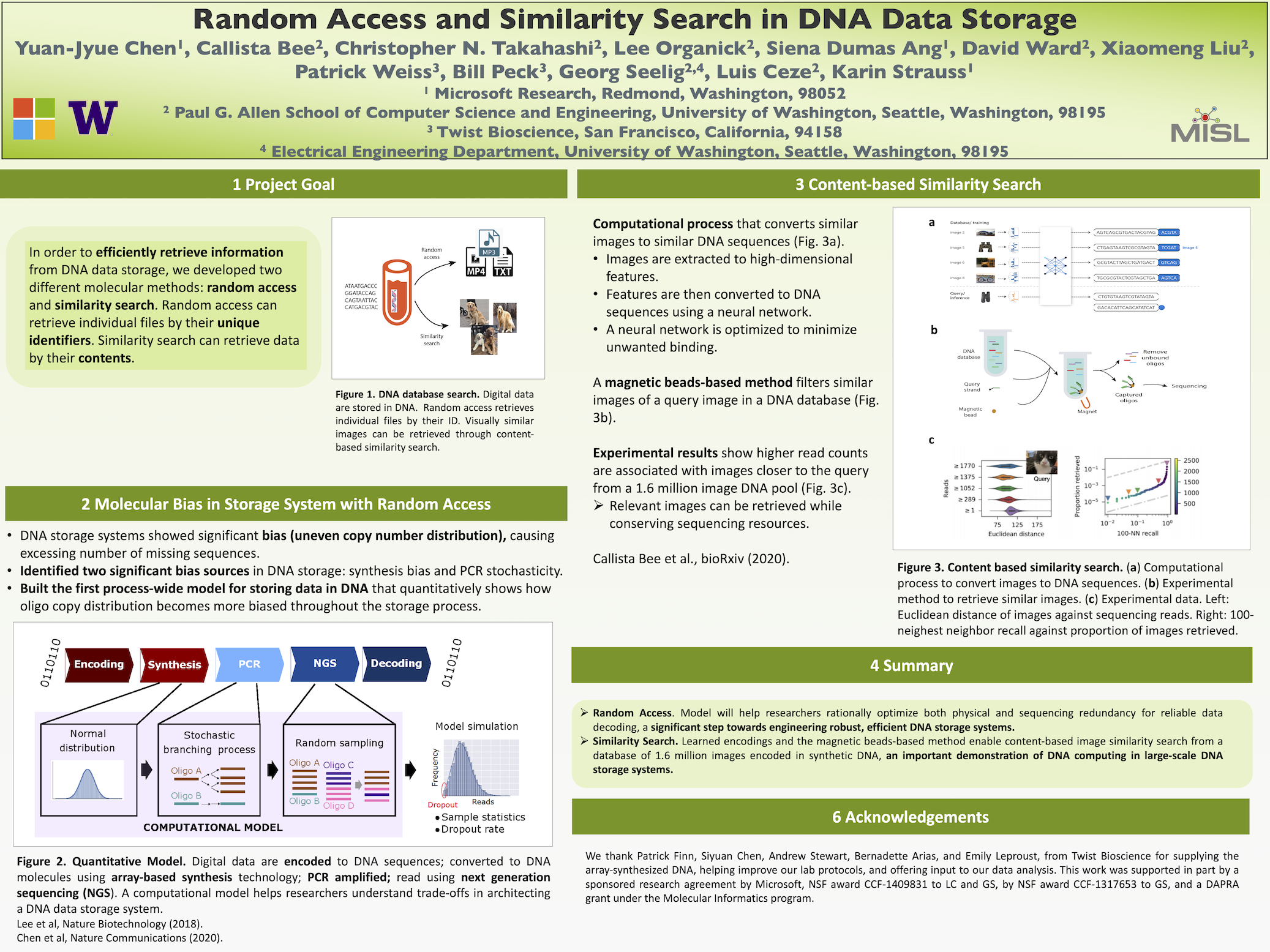 Yuan-Jyue Chen is a senior researcher at Microsoft Research. He is also an affiliate professor in the Paul G. Allen School of Computer Science & Engineering at the University of Washington. His research focuses on DNA Storage and DNA computing. He collaborates closely with the Molecular Information System Lab (MISL) at the University of Washington to make DNA storage a reality. Prior to Microsoft, he received his PhD in Electrical Engineering from University of Washington in 2015, advised by Georg Seelig. His PhD project was a collaboration between the biological computation research group at MSR Cambridge and Caltech. He came to Microsoft Research as a postdoc in 2015 and became a researcher in the DNA storage group in 2017.
---
2. New events coming!
We will soon talk with Erik Poppleton! Please send us your questions by Feb 25th!
Erik Poppleton's research is focused on how to use computational modeling to inform the design of molecular machines. As part of Petr Sulc's and Hao Yan's research groups, Erik uses coarse-grained molecular modeling software to identify structural features and rationally iterate designs of DNA and RNA nanostructures, which he can then test in the lab; as part of this, he also develops general-use analysis tools for oxDNA, and conversion tools to integrate the various design and simulation tools in the nucleic acid nanotechnology ecosystem.
His previous research has included using oxidizing agents to accelerate bioremediation of hydrocarbon-contaminated soils, using bacterial collagen-like molecules and synthetic peptides for biophysical characterization of the molecular basis for collagen structure, and using isotope tracking to characterize carbon degradation and distribution in deep soil.
---
For more information, click here! Registration for the workshop is free, but places are limited.
Nucleic acid nanotechnology is an incredibly versatile platform for constructing rationally-designed molecular systems. Much of the current attention is focussed on self-assembling structures that are designed to reach a static equilibrium, or computational architectures that compute a single function by relaxing to equilibrium.
One of the signature features of living systems, however, is that they operate continuously rather than relaxing to equilibrium. The circuits built by synthetic biologists from re-purposed cellular components reflect this principle. Components are continuously produced and degraded, and the system is dynamically responsive to a changing environment. Feedback control architectures, which reject external perturbations to maintain certain properties of key molecular species, are a particularly elegant example.
Other researchers seek to mimic specific functions of living systems—such as replication, or cellular division—using de novo chemical designs. In doing so, they grapple with the challenges of designing and controlling far-from equilibrium systems with innovative chemical motifs.
We are gathering researchers with expertise across these disciplines for a workshop to discuss how nucleic acid engineering can be made more lifelike. In doing so, we hope to explore how nucleic acid nanotechnology can be applied more broadly to synthetic biology and the engineering of minimal life-like systems.
The workshop will take place online between the 29th and the 31st March 2021. Visit our programme page for more details on the timings and our speakers. If you would like to attend or submit a poster abstract, please visit the registration page.
---
4. Interested in helping out, sharing something interesting, or have an idea for something we could do?
If so, please get in touch with us! Shoot us an email at contributions AT <this domain>, there are loads of ways you can get involved, and many we haven't even thought of, but here's a few ideas of what you could do:
Be a guest on our podcast series: you can talk about anything vaguely related to the field, whether it's comments on life as a student/researcher, some thoughts you've had about the field, some interesting work you want to share, or if you want to speak out about something like mental health, this is the perfect place to do it!
Present a poster-podcast! This is something we're very excited to try out, and we hope you feel the same: the idea is to try to explain something (it doesn't have to be your own work) within a 20-30 minute podcast, with the challenge that all reference material needs to fit into a poster format.
Want to advertise something on our newsletter? Perhaps you've just passed your thesis defence, or are looking for a team for a hackathon, or have a job posting to share, or have just written a blog post you think might be of interest; whatever the case we'd love to help you share the good news!
We're also open to more conventional seminar-esque things like talks or journal clubs.
We're looking forward to getting to hear from you, and getting to know you better!